Old fashioned smoked meats you will love!!!!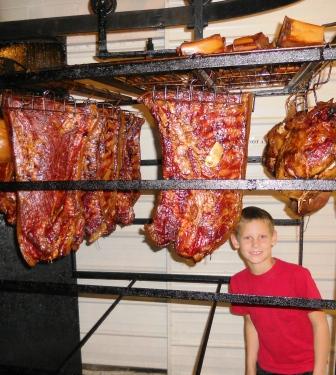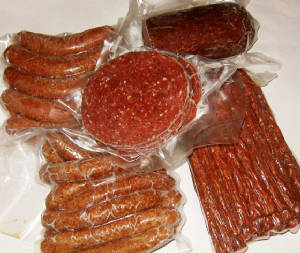 Mixed Steer 1/4's
sold by hanging weight (approx. 200lbs)
Call for pricing today!! 320-547-0046

Unbeatable Meat Processing Services On-Farm
Do you need your livestock butchered on your farm? Count on the custom butchering services of Riverside Meats and Processing in Swanville, Minnesota. Contact us today for more information about our services.

Our butchering truck will come out to your farm to perform butchering on-site.

We butcher the animals on your farm, then take them back to our facility for further meat processing to your specifications. Our truck normally visits farms within a 60-mile radius, but feel free to contact us if you live further away.
Meat Processing On-Site


You can also bring your live animal to our location and we will butcher here for you including cattle, hogs, goats, and sheep.


Sausage
We also make all different varieties of sausage and smoked meats see
Wild Game Processing & Sausage

Price List
Butchering one beef- $35.00
Butchering one pig- $18.00
Processing pork or beef- $.53lb on hanging weight of animal
(this includes cutting, paper wrapping, grinding & freezing)
Optional Additional Charges
Trip charge- $.50 per mile to pick up animals on the farm (IF OVER 45 MILES ONE WAY THE CHARGE IS .60 PER MILE)
Wrap individual steaks- $.05 lb. on hanging weight
Vacuum sealing- $.35 per package
Patties- $.50 lb.
Smoking meat- $.85 lb.

We also offer-
Beef & Pork- Market price on hanging weight*
WE OFFER WHOLE, HALVES & QUARTERS
*hanging weight is the weight of the animal on the rail after being butchered.
50% DOWN PAYMENT REQUIRED AT TIME OF ORDER.
Normal beef processing includes;
Steaks 1" thick (Ribeye, Sirloin, Sirloin Tip, Tenderloin, T-bone, Porterhouse, Round )
Roasts (Chuck, Prime Rib, Arm, Rump)
Ribs, Soupbones, Liver, Heart, Tongue, Ox-Tail
& Ground Beef
Normal pork processing includes;
Cuts (Chops, Shoulder Steaks)
Roasts (Pork Shoulder, Fresh Ham)
Bellies (Bacon or Fresh Side Pork)
Hams (Fresh or Smoked)
Spare Ribs, Country Style Ribs, Hocks, Liver, Heart
& Ground Pork
Our beef are dry-aged for 10 to 14 days unless the customer specifies otherwise.
Ask us about paper wrapping or vacuum sealing.

There are many other options for your processing; your special requests for other items may be made when cutting orders are taken.
BEEF CUTTING INSTRUCTIONS

NAME_______________

PHONE_________________

WHOLE CARCASS ( ) SIDE ( ) 1/4 ( )

PACKAGING

THICKNESS

PER PACK

STEAKS-

___________

_________

ROUND STEAK-REGULAR, TENDERIZED, OR GROUND

ROAST-

___________LBS.

GROUND BEEF- 1 LB. 1.5 LB. OR 2 LBS.

(IF BEING DONE) PATTIES_____________LBS.

(IF BEING DONE) SAUSAGE-

VACUUM SEALED OR BULK

RIBS

YES/NO

SOUPBONES

YES/NO

LIVER

YES/NO

HEART

YES/NO

OX-TAIL

YES/NO

TONGUE

YES/NO

SPECIAL INSTRUCTIONS:
PORK CUTTING INSTRUCTIONS

DATE __________________

NAME__________________

PHONE________________

WHOLE CARCASS ( ) SIDE ( )

PACKAGING

THICKNESS

PER PACK

CHOPS

__________

_________

PORK SHOULDER STEAKS OR ROASTS

ROAST

______LBS.

HAM STEAK

__________

_________

HAMS

CURED OR FRESH

PACKAGED- WHOLE 1/2 1/3 1/4

BELLIES

CURED OR FRESH

RIBS

YES/NO

HOCKS

YES/NO

LARD

YES/NO

LIVER

YES/NO

HEART

YES/NO

TRIM: GROUND PORK BREAKFAST SAUSAGE BULK LINKS OR PATTIES

SPECIAL INSTRUCTIONS:


This is an example of meat after the cutting loss of bone, fat, etc...
Beef
If you buy a mixed quarter of beef with an average weight of 200lbs. You will get about 110lbs. of meat after processing.
Hogs
If you buy a half of hog with an average weight of 100lbs. You will get about 65lbs. of meat after processing.

Riverside Meats processes animals mostly boneless, we leave the bone in the Porterhouse/T-Bone steaks, chuck roasts, and ribs. Cutting this way will save on freezer space and the cuts are easier to prepare. If you prefer the bone left in your meat you must request it when your cutting order is received.
Riverside would like the meat picked up within seven days of notifying you it is ready.